With the starting bell ringing, team Sapphire Properties started their journey of the biggest property festival in Pakistan,
Graana Property Festival
Expo Center Johar Town Lahore. Real-Estate investors started pouring in right away as exhibitors prepared for a busy day, and Team Sapphire energetically made sure everything was in order at camp. Around noon, the throng began to thicken, with a continual buzz of interested people visiting various realtors. The first day of the event started with a bang as the CEO of Sapphire Properties, Mr. Bilal Afzal, greeted the chairman of
Blue World City
, Mr. Saad Nazir, at the entrance.
Sapphire Properties
CEO Mr. Bilal Afzal also presented flowers to chief guests for honoring the event with their presence. All top media channels provided full coverage of the event's opening ceremony. Mr. Saad Nazir walked around meeting with different stall members. He then especially visited the Sapphire Properties stall and congratulated the entire Sapphire team for their efforts in guiding people to the right place.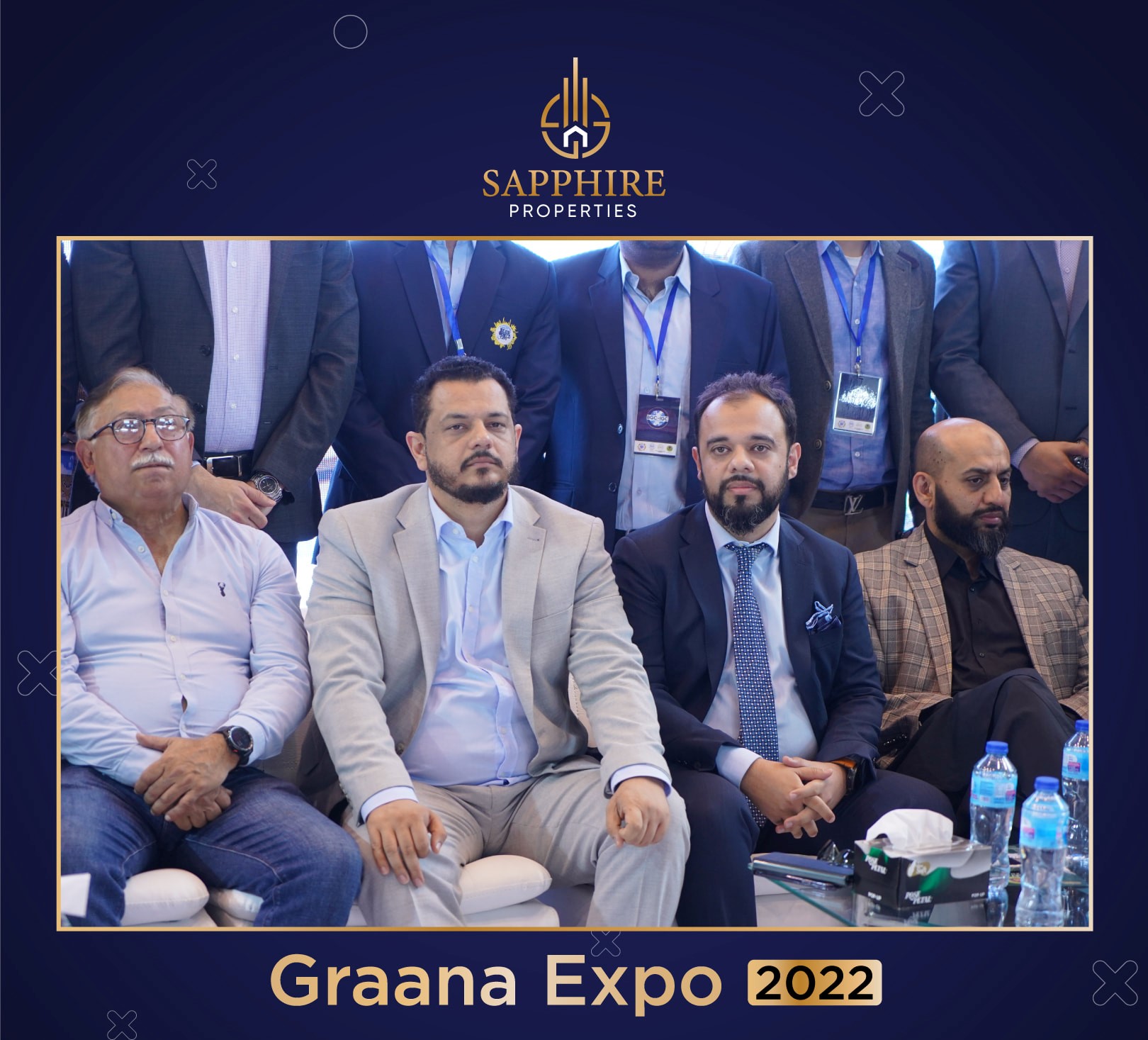 The event's excitement and enthusiasm grew as the day proceeded, and what a sight it was! While guests waited for their time at their chosen booth, others browsed all of the new projects on offer to find the ideal investment opportunity! The Expo Centre was full, and you could feel the excitement and buzz!
What are Visitors Saying?
The property event 2022 couldn't have been this successful without the huge turnout and fantastic response from real-estate investors and visitors. All visitors had a wonderful time exploring different investment options.
"Graana has surely put on a fantastic event. All real-estate stall owners have done a fantastic job guiding us to our dream properties. I recommend that everyone with an interest in real estate attend the event. I needed information about prospective investment societies, and I must say that my trip was well worth It." said a visitor who visited Sapphire Properties stall. 
"We are grateful to the entire Sapphire Properties team for everything they have done thus far for the investors. Not only did the team provide the right advice to all clients but also make sure that they only choose property after proper vetting, which is a huge relief for us." Said another investor visiting Sapphire Stall.
While talking to the media team of Sapphire Properties, one visitor said: "Graana did a great job in organizing this huge property festival in Lahore Expo Center. Such events should be a regular thing, so investors like us will find good opportunities under one roof. With the investment in property taxes, events like this provide a huge sigh of relief to investors."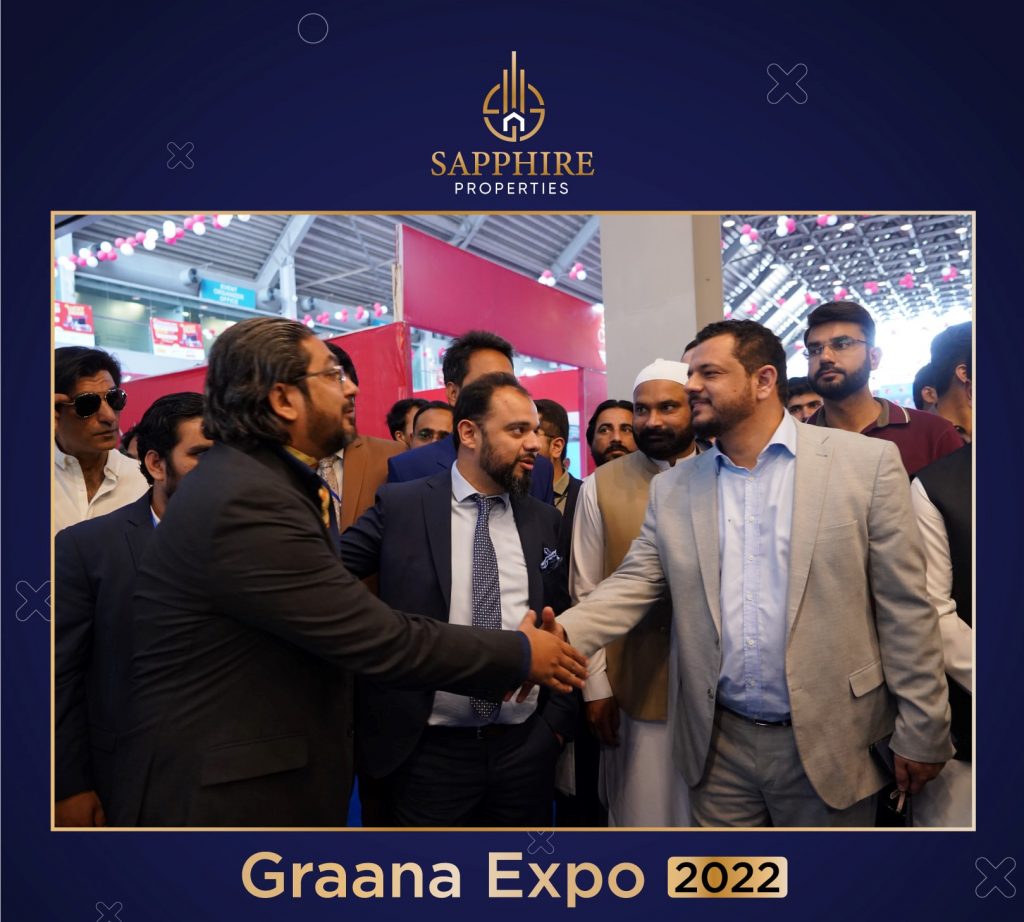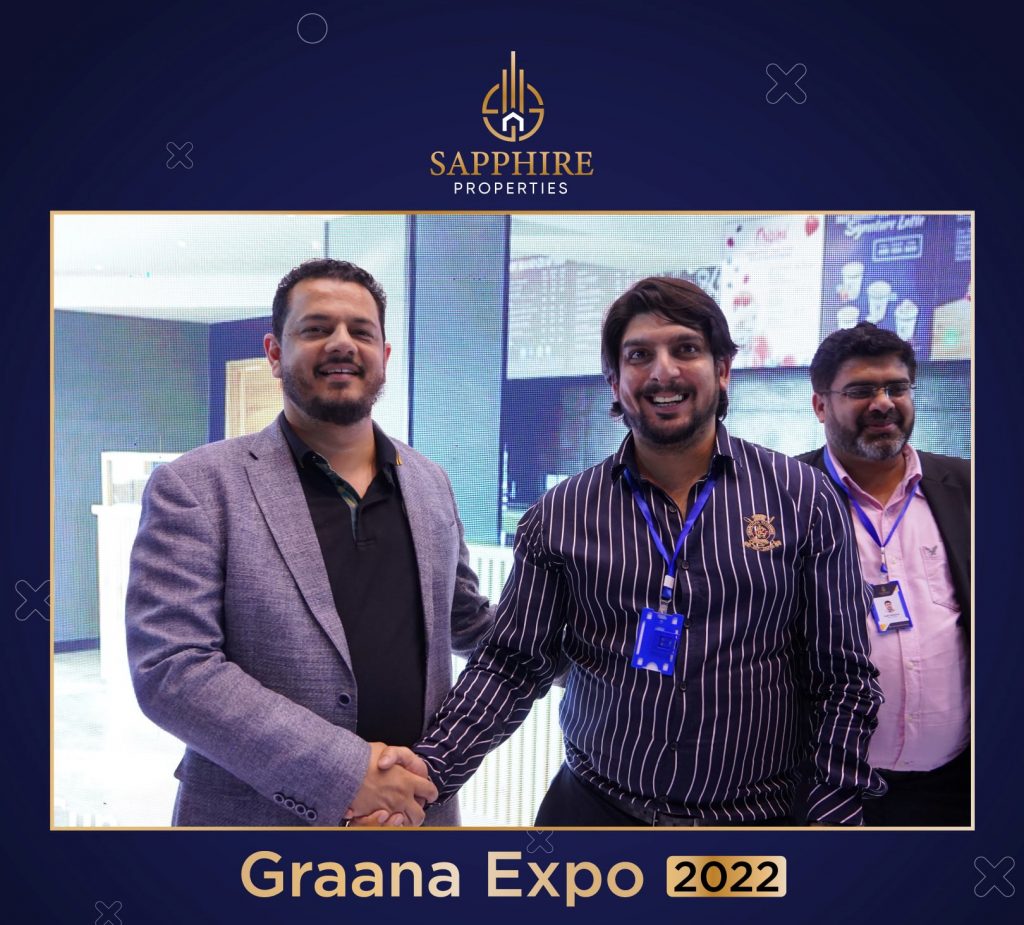 Mr. Farhan Rabbani
came to the property EXPO in the hope of finding the perfect home for his family and left the Expo as a plot owner. He was overwhelmed with the repose he got from all the property consultants. He said that these events should be held regularly all over Pakistan, so investors like him will find the opportunities. The one thing Graana-powered Property Expo 2022 proved is that property is not man only field anymore. We saw many women visiting Sapphire Properties stall in search of their dream property. Many female clients visited our stall in search of investment opportunities.
Mrs. Nouman
came to us to get all the information on Blue World City Islamabad and
Smart City
(BWC's project in Lahore). She praised Sapphire Properties for their successful marketing techniques in attracting a large number of real estate lovers to the Expo Centre. There can't be a better representation of motherhood this
Mother's Day
than women thinking about the future of their families. The Expo also featured real estate projects from cities other than Lahore.
Mr. Rizwan Haider
came to the Expo Centre to learn about Islamabad real estate developments. He, too, shouted the event's praises and praised Team Sapphire's efforts in staging a great realty consultancy camp.
Satisfied Real-Estate Agencies​
This Expo allowed all types of real estate agents to get together under one roof, which proved to be in the best interest of the business. All agencies were happy and satisfied with the response they got from clients and other business partners. Let's take a look at other property consultants at the Graana property expo.
Blue World City
Blue World City was among the top property firms in this property festival. Mr. Saad Nazir (Chairman BWC & BGC) inaugurated the property festival and graced the event with his presence. Mr. Saad Nazir was kind enough to lend us his precious time for an interview. He was all praise for the festival and wished that this kind of event should happen more often. We also talked with team members of BWC and got their views on this amazing property festival. All the team members were pretty happy with the response they got from visitors and other property consultants.
Agency 21
Everything was crisp and fine at the camp of Agency 21 as they were seen distributing cricket bats to their visitors, and why won't they? Their brand ambassador is Wasim Akram (One of the finest the game has ever produced). They were busy throughout the event and were all smiles at the response they got.
Graana.com
Graana not only sponsored the whole event, but their property consultancy team was also there to weave magic on property enthusiasts. Mr. Shaan Shahid (Pakistan's Finest actor) was also seen hanging around in their camp, making the crowd gaga. We spoke to the management of the Graana and got their expert opinion on the condition of the real estate market and opportunities for people of different regions of Pakistan. You will be thrilled to hear that Graana and Sapphire Properties have many great opportunities in the pipeline for our clients. Just be a little more patient.
Sapphire Properties
Last but not least, team Sapphire Properties was overwhelmed by the love and affection coming from 360 degrees. Our expert team was on their toes the entire time, working and guiding clients to their dream place. We received praises from all over, especially from our partners. We take great pride in marketing the best real-estate projects in Islamabad and Lahore.
In Islamabad:
In Lahore:
The Blue World City was so happy with our contributions towards providing quality real-estate consultancy that they made us their platinum associates. Graana applauded our team's efforts in setting trends and guiding people to their future homes. They presented the award of excellent performance to our CEO Mr. Bilal Afzal, which was the highlight of the whole event for team Sapphire.
Some Memorable Shots from the Event
The event was a fantastic success, exceeding our expectations and our exhibitors and guests! At 8:00 p.m., the great event drew to an end, leaving everyone wanting more!